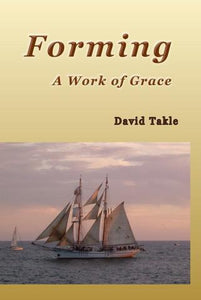 Forming: A Work of Grace
Christian growth and development do not result from trying to act more like Jesus, it comes from becoming more like Jesus on the inside.
Forming will show you how to engage with God and build a relationship with Him that is vibrant enough to change you from the inside out.
Rather than trying to row against the current of your inner life in an effort to do what you think is right, Forming shows you how to align your sails with the wind, engaging with the Spirit of God to change the direction of your heart, so you can go places you could never reach by rowing.
If you are tired of "row harder" approaches to spiritual growth, then come along with us and learn how to connect with God for the kind of change you always believed should be possible!
LEARN MORE AND EXPERIENCE SESSION 1 FREE! Sample the first chapter, stream two videos, and download chapter 1 of the workbook FREE! Sample the product at https://forming-course.com
David Takle (author) aims to help Christians escape the treadmill of performance-based Christianity and develop a genuine relationship with God that will change everything about their spiritual life. David earned his Master of Divinity degree from Fuller Seminary with a concentration in spiritual formation. He has authored several books on how to engage with God to experience healing and transformation.