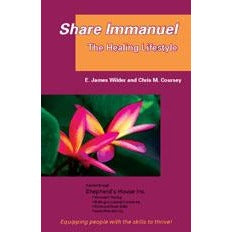 Share Immanuel
This 21 page, full color booklet is the simple and attractive way to share Immanuel healing with others.
Share Immanuel is illustrated with flowers, thorns and personal examples that guide you through the three simple stages of an Immanuel healing experience. You learn the best way to prepare, interact with God for healing and then retrain how your mind thinks.
Most prayer ministry training teaches only the interaction with God and little if any about the best ways to prepare. As far as we know, Share Immanuel is the only guide that includes how to retrain your mind to apply the healing to your life. And yet, Share Immanuel is simple and as enjoyable as giving hospitality to your friends. This booklet includes a guide to sources, resources and problem solving.