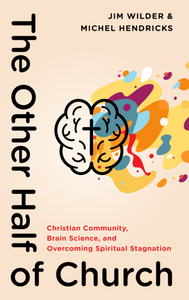 The Other Half of the Church
What does brain science have to do with spiritual growth?
After a lifetime following Christ and a career as a spiritual formation pastor, Michel Hendricks was disappointed: why does spiritual transformation seem fleeting? And why do Christian communities often seem shallow? That's when he met neurotheologian Jim Wilder and discovered what's been missing from his church community and spiritual life. 
The Other Half of Church
invites you to join Jim Wilder and Michel and revolutionize your spiritual growth by understanding how the brain works. Learn the roles of the brain's left and right sides and how they're both critical to experience lasting, full-brain transformation. You'll then learn the four ingredients necessary to develop and maintain a vibrant, transformational community:
TRUE JOY FOUND THROUGH CONNECTION AND RELATIONSHIPS

HESED

LOVE OF SECURELY ATTACHED COMMUNITIES

WELL-DEVELOPED GROUP IDENTITY BASED ON THE CHARACTER OF CHRIST

A CULTURE OF UPLIFTING, HEALTHY CORRECTION

MEET THE AUTHORS
Jim Wilder (Ph.D., Clinical Psychology, and MA Theology, Fuller Theological Seminary) has been training leaders and counselors for over 40 years and is the author of eighteen books. He served as executive director of Shepherd's House Inc. and founder of Life Model Works. Dr. Wilder has extensive clinical counseling experience and has served as a guest lecturer at institutions such as Fuller Seminary, Biola University, and Talbot Seminary.
Michel Hendricks 
(MDiv, Denver Seminary; BS, University of Colorado) has been a teacher and trainer for more than twenty-five years. He is the former pastor of spiritual formation at Flatirons Community Church in Lafayette, CO. He has also served and trained people in Argentina, Bolivia, Mexico, Kenya, South Sudan, and Uganda. He is the author of
Basic Training for Walking with Jesus
and Intentional Apprenticeship. He and his wife, Claudia, have three adult children.