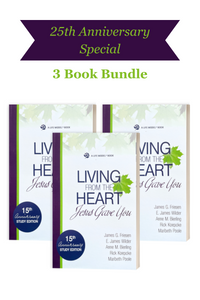 3-Book Bundle: Living From the Heart Jesus Gave You
Get 3 books and Save 25%! 
Life Model Works is celebrating 25 years of this powerful book that is changing our lives!
To celebrate, we are doing a throw-back to the early distribution plan for Living from the Heart Jesus Gave You. When this book was first published, Shepherd's House only sold it in bundles of 3. Why?
This book is best understood and applied when studied in community. To facilitate that, buy 3 copies, and study it with 2 friends. Let us know how it goes!
This edition now includes study questions at the end of each chapter as well as many other bonuses.
The Life Model is a unifying approach to ministries of counseling, recovery, pastoral care, prayer ministry, deliverance, inner healing, child-rearing, body life, and health. Substance abuse recovery programs internationally are guided by the Life Model's five principles.
Because the Life Model develops strong maturity, it is widely used as a church model, particularly where people must face suffering. Missions have adopted the Life Model for restoring hurt missionary children. Almost every major ministry dealing with trauma and abuse in the USA uses the Life Model as part of their teaching.
Written by James Friesen, E James Wilder, Anne Bierling, Rick Koepcke, and Maribeth Poole.