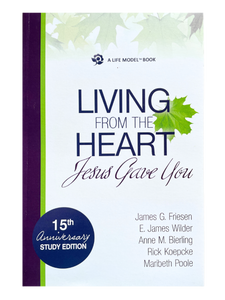 AudioBook: Living From the Heart Jesus Gave You
 This is the audiobook for "Living from the Heart Jesus Gave You" which teaches the Life Model.
The Life Model is a unifying approach to ministries of counseling, recovery, pastoral care, prayer ministry, deliverance, inner healing, child-rearing, body life, and health. Substance abuse recovery programs internationally are guided by the Life Model's five principles.
Because the Life Model develops strong maturity, it is widely used as a church model, particularly where people must face suffering. Missions have adopted the Life Model for restoring hurt missionary children. Almost every major ministry dealing with trauma and abuse in the USA uses the Life Model as part of their teaching.
Written by James Friesen, E James Wilder, Anne Bierling, Rick Koepcke, and Maribeth Poole.
TO DOWNLOAD AFTER PURCHASE: You will receive a download link two ways.

1) Keep open the webpage confirming your order and the download link will load in a few minutes.

2) Check your email for an order confirmation AND a separate email with a download link. If you do not receive the email within five minutes, please check your junk, spam, and promotions folders. If you do not find the email, please let us know by emailing orders@lifemodelworks.org.