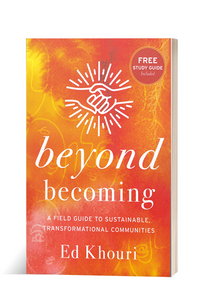 Beyond Becoming: A Field Guide to Sustainable, Transformational Communities
Thriving relationships and a dynamic life with God require spiritual community. So, how do you create diverse small groups?
In Beyond Becoming, Ed Khouri lays out a biblical understanding of spiritual communities as families that are rooted in shared experiences of grace. Through these Spirit-empowered dynamics, his approach creates a sustainable model fo transformation where leaders and members are free to express their passion, call, and gifts as they care for one another. There is no need to keep buying curriculum when the DNA of grace steers each opportunity to meet.
On the road to transformation, learn how to avoid common ditches along the small group journey:
Toxic, problem-centered interactions
Passive participation
Entrenched, fear-based relationships
Controlling and abusive leadership
In Beyond Becoming, groups will find practical activities, storytelling, and Scripture reflection that uniquely matches their community.