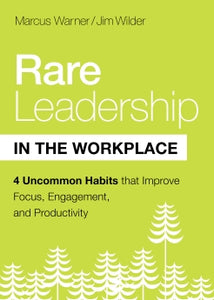 Rare Leadership in the Workplace
Revive your leadership. Grow healthy teams. See great results.
Healthy teams begin with healthy leaders, and at the heart of this dynamic is emotional maturity—the quality the greatest leaders possess. Healthy leaders lead with their full heart and whole brain. RARE Leadership in the Workplace will help you live the Life Model at work. 
Learn how the Life Model can transform you at work: from fear and avoidance to fearlessness and joy!
Combining cutting-edge brain science with decades of counseling and consulting experience, Rare Leadership in the Workplace shows you how to take your leadership and your team to the next level. It will equip you to:
Cultivate emotional maturity in yourself and others

Develop the four habits of R.A.R.E. leaders

Become recognized as the emotionally intelligent "morale leader" of your team

Promote a strong group identity

Keep relationships bigger than problems

Transform a work culture of fear into a culture of joy

Increase productivity through trust, joy, and engagement
Whether you are burnt out or just looking to improve, this book can help. When you prioritize people and lead from a secure identity, you'll be amazed at the freedom you feel and the results you see. You can lead from a healthy place, respond rather than react, and build the team of your dreams.
If you want to take your organization to the next level, it starts with you. Read Rare Leadership in the Workplace and be equipped to lead enthusiastic, emotionally mature, relationally connected teams.
Co-Author, Marcus Warner wrote, "This past few years I've lost count of how many people said they wished there was a version of Rare Leadership that they could hand to co-workers, bosses, and other professionals.

You asked, we answered!

Jim Wilder and I completely re-wrote the original "Rare Leadership" using the most up-to-date neuroscience. We use new illustrations and examples from the corporate world, and we include exercises at the end of each chapter to help anyone grow their emotional maturity.

And, this version is about half the size of the original title, so it's a quick, yet powerful read for people on the go. 

You'll want to pick up a copy for yourself and for those you know who want to create healthier, more joyful, more productive teams."