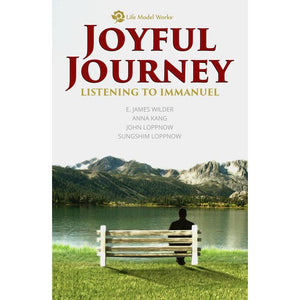 Joyful Journey: Listening to Immanuel
Joyful Journey: Listening to Immanuel. Written by E. James Wilder, Anna Kang, John Loppnow & Sungshim Loppnow.
"There is not in the world a kind of life more sweet and delightful, than that of a continual conversation with God; those only can comprehend it who practice and experience it." 
- Brother Lawrence, The Practice of the Presence of God 
God is present: Here. Now. 
Experiencing God's presence brings healing, peace, and connection. But like any other relationship, experiencing God's presence takes practice. 
Joyful Journey will teach you how to practice God's presence every day. Discover how you can enjoy daily guidance and friendship with God, using methods grounded in scripture, spiritual disciplines, and cutting-edge neuroscience. 
Surprising joy. Profound healing. Intimate connection. 
Available to anyone. 
Learn how with Joyful Journey! 
"I have personally used the method often and have been 'spreading the news' widely. It has been life-changing for so many people!" 
- Jane Willard, wife of Dallas Willard and founder of Shepherd's House. 
ISBN 978-1-935629-17-7
Joyful Journey is also available as an eBook on Amazon here.