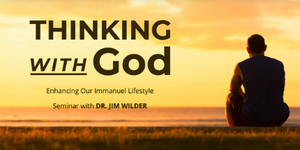 Thinking with God Seminar
Dr. Jim Wilder's four most recent keynotes expounding each of the four domains of neurotheology are now available. These video presentations are the foundational theory of the Life Model and were recently recorded at the Thinking with God Seminar.

Watch the presentations covering fast track attachment, slow track cognitive, somatic/body, and group levels of organization.
Thinking Faster than Conscious Thought
Conscious Thinking with God
Thinking Slower than Conscious Thought
Thinking with Group Mind
Each of the four sessions includes a focus on the strengths, weaknesses, traditional practices, neuroscience, a brief illustrative exercise, and resource recommendations.

The fifth video presentation now available includes commentary from four distinguished colleagues sharing their professional insights on Dr. Wilder's keynotes.
Rev. William Watson
Rev. Bill Bjoraker, Ph.D.
Beth Booram
Bernard Franklin, Ph.D
**Upon purchase, you will receive an email giving you access to these videos online.
**You will have unlimited access to the video recordings of the seminar and there is no time limit on the videos being available.
**This purchase gives you and the members of your household access; usage is restricted otherwise.