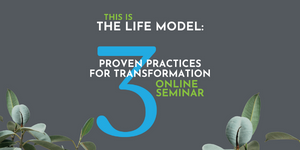 This is the Life Model Seminar
We all need clear guidance to practices that will bring true transformation.
Combining the Bible and brain science, Dr. Jim Wilder of Life Model Works and others developed the Life Model, resulting in three proven practices that lead to transformation into Christlikeness.

This 4-hour online seminar includes four presentations and a Q&A:
What is the Life Model? (Jim Wilder)
Relational Brain Skills (Amy Brown)
Immanuel Lifestyle (Michael Sullivant)
Multigenerational Community (Michel Hendricks)
Q & A with Dr. Jim Wilder
*Upon purchase, you will receive an email confirmation of your order and a separate email giving you access to these videos online.
**You will have unlimited access to the video recordings of the seminar and there is no time limit on the videos being available.
***This purchase gives you and the members of your household access; usage is restricted otherwise.